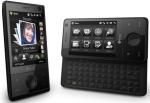 Yeah!

Itís finally available in europe.


Iíve been waiting for the HTC touch pro from the moment it was announced, so I was first in line to get one. Hereís a quick review.
No unpacking video as I ripped open the box the moment I was outside the store.

The Pros
Awesome keyboard: the slide out keyboard was a must have for me and it doesnít disappoint: with 5 rows of keys you can do some serious writing on the move. Tactile feedback is good and the spring-aided slide-in/slide-out †feels snappy.
Extremely sharp screen: although its only 2,8 inch, its 640 x 480 pixels which makes it one of the sharpest screens I have ever seen.
Touch Flo: I was expecting my First step would be to install SPB mobile Shell, but the Touch Flo 3D interface works really well. The finger gestures are nicely expanded in the applications: to zoom in a picture you draw a circle around the detail you want to enlarge. Zoom out is a double tap.
The round button in the middle doubles as as 5-way navigation button and as a† iPod-like scroll button (usually also to zoom in/out)
Features features features features. About any possible option you can think of is present. The even didnít forget the FM-radio, which is an option I use all the time personally.
The one thing I canít think of that is not there is an infrared-port.
Eye for details. A great deal of effort has been put into the finishing touches: things like how the status light under the navigation button flashes to indicate whats happening, things like the packaging and the interface changes to make a better one-hand use experience. Even the power adapter is very stylish and smart.
When you hook it up to your PC with a standard mini-USB cable; you get 3 options: Function as Active Sync, Remote storage or as external modem. (Ok, the Nokia devices had this for ages, but still: nice to know it can function as standard remote storage wherever you are)
†Enough graphic and processing power for smooth full screen video and large datasets (like the TomTom Western Europe Map)
The Cons
No big flaws but nevertheless some little points that could be better, although thatís probably more due to personal taste that something else.
Lack of hardware buttons: My previous device had some dedicated buttons for camera, email, browser, connection status. The HTC touch pro has none of those, which makes sense aesthetically Ö but Iíll miss them.
No standard 3,5 inch audio socket. The phone only has 1 port: a mini USB that triples as audio socket, data port, power in and TV-out. Off course you have a nice stereo Bluetooth audio, but a standard 3,5 inch audio socket would be nice.
The screen is a bit small(ish) Ė it could cover more of the phone
Multitasking Ė well, since when is multitasking a flaw? Ok, itís great that you can check your email, find your way, watch a video and be a wifi hotspot all at the same time, but itís so easy to have a slew of programs running at the same time that itís equal easy to drain your battery and notice some sluggish performance. Offcourse thatís an OS-feature, but still Ö you have to actively remember to close some programs once in a while.
That TV-out is all and well but where can you buy the frigging cable for that?
The switch from landscape to portrait still is a bit slow at times and it doesnít work equally well in all applications. (Like the Youtube player: the main interface always is in portrait, the video always plays in landscape)
The Touch Flo interface in Landscape mode is bit weak. Or rather nonexistent. In general the Touch Flo interface lacks a bit of customizability.
Battery Life
Battery Life will always be a weak point for very active mobile people and this battery still is a lot smaller then e.g. the Tytn or TytnII battery Ö hmmm Ö
Off course Bluetooth, 3G and Wifi are all known to drain your battery and itís too early to have some real-world experience with the device but I expect it to only last a day Ė which is reasonable. (nevertheless, I usually keep a spare battery in range)
GPS
It seems that a lot of people think this an overkill-feature, but not for me.
It works great with Google Maps and Geo-tagging your pictures with Shozu is a breeze.
I installed TomTom7 on the device, which worked flawlessly: the internal GPS was found automatically and a fix was reached very fast.
Video Playback
Luckily the Touch pro doesnít suffer from the same lack of drivers as the TytnII did: video playback is very smooth. A ďnormalĒ size DivX file (720◊576 pixels) is played back smoothly, seeking is fast. (I use the free TCPMP player, which plays about anything you throw at it, including flv flash video)
Transcoding your video to play on a mobile device really is something of the dark ages.
I purchased an 8 GB MicroSD with it, which is big enough to hold the entire Chick Carter, Detective collection in good quality Divx. Chick Carter rules!
Camera
3,2 Megapixel Ö well Ö a bit disappointing. The autofocus is slow as hell, and the actual capture is even slower. (faster than the iPhone though Ö)
The LED flash light is rubbish Ė as all LED flash lights are.
Here are some pics shot with the phones camera(daylight,indoor and nighttime)





The maximum video resolution is CIF ( 352x288 pixels)
Here are some videoís (daylight and nighttime)





Power-usage
Windows mobile has it good points and weak points and out of the box it lacks some applications.† (for a complete list of must have applications, see this post)
For some reason, the remote desktop client is not installed, but you can get it from here.
This is where especially the screen really excels: connect to your home PC or your server from anywhere over 3G, and you get a snappy 640x480 desktop on your device thatís fast enough to be fun to work with
Mobile TV is all the craze these days; but why should you pay your mobile operator extra for that service if youíre already paying for a data-subscription?
If you have a slingbox or Windows media center at home, you can live-stream your cable-TV signal, or any other video source you connect to it, straight to your mobile. Sweet.
WMWifiRouter: just active this app and your phone will build a bridge between Wifi and your 3G connection, so that any Wifi enabled device can connect to the internet through it.
All in all Iím extremely happy with this device. It really was worth the wait. Iím pretty certain it will hold up well in real-life usage. My only concern is that with so much high tech in such a small package, some issues sooner or later are bound to appear. So: Please donít break!

Oh, and one more thing Ö this entire article was typed on Ö a HTC Touch Pro
Tags: Gadgets, in English, Mobile
Geef je reactie (2)