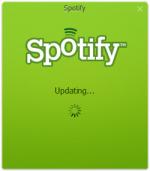 Streaming music is the way to go - it's as simple as that.
Replace your multigigabyte storage with a decent mobile always-on internet connection and suddenly the entire world fits inside your pocket.
I totally adore Spotify and it was driving me crazy I couldn't get it on my mobile because as Spotify isn't available in Belgium yet, you can't buy a premium account here to unlock the mobile application.
Of course the desktop app works fine on my Viliv s5 - which is also pretty mobile, but still ...
My own attempts to stream Spotify using my Spotify lib as remote control and VLC to stream my desktop audio to my mobile worked as proof of concept but the experience was less then ideal.
Sooo: today I finally managed to get myself a Spotify premium account and the key was Spotify's addition of Paypal as a method of payment.
Here are the steps to get your very own.
You can only use a paypal account from the same country as you're buying a premium account so go to http://www.paypal.co.uk and create a new paypal account.
Fill in some bogus but valid UK address and bank details
You can't use your Paypal balance to pay for Spotify as this is a monthly subscription, so you'll have to add a credit card. If you already used your credit card for your main paypal account, you'll have to use a second one or remove the card from your main account (that's quite a hassle, no ... probably the biggest hurdle?)
You'll have to validate your card: paypal will charge it with 1.5 euro and you have to enter the transaction code which will appear on your credit card transcripts from your bank. The good (but weird) part is that Paypal will validate your card, even if you entered a fake name an UK address.
After validation, you get a refund for the 1.5 euro.
Once your card is validated, log into your Spotify account - using a UK proxy if needed - and buy a premium account with your UK paypal.
That's it, you now have an add-free high-quality-streaming Spotify that you can use on your mobile too.
Their mobile app for Android (which you can download from m.spotify.com) is pretty sweet!
Their 14-days limit to use Spotify from "abroad" is now lifted too, so you can shelve your UK proxy tricks for the next UK only app.

Gosh, that must be the most trouble I ever went through to be able to BUY something ... jeez ...
If Spotify or Paypal ever decide I'm a fraud and cancel my account ... oh well, so be it - at least I had the fun and satisfaction to get what i wanted :-)
Tags: in English, Mobile, Web 2.0
Geef je reactie (4)