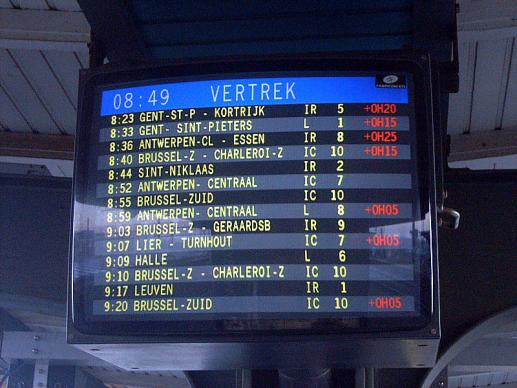 Zagen op de NMBS, dat doen we graag en dat doen we veel.
Reizen met de trein is zalig, behalve als je ergens op tijd moet zijn.

Ik reis bijvoorbeeld vaak van Mechelen naar Ekeren.
Een rechtstreekse verbinding: instappen, TV serieke opzetten en een half uurtje later terug uitstappen.
Zalig.
Behalve als het mis gaat.



"Wegens een personen ongeval in Luttre heeft de trein naar Antwerpen Centraal - Essen 35 minuten vertraging."

Kan gebeuren - en niet erg want mijn collectie TV series groeit sneller dan dat ik ze kan kijken.
Zo'n beetje ongeplande vrije tijd is best welkom.



"Wegens een defect aan de seininstallatie kan de trein het station niet inrijden"

Murphy: een ongeluk komt nooit alleen.
Toch neem ik niet de eerstvolgende trein naar Antwerpen want dan moet ik weer overstappen en zo.
Nee, voor mij geen stress, beter wat wachten en rechtreeks rijden.
En zie daar: de trein rijdt binnen en vertrekt, slechts 45 minuten vertraging.



"Wegens te grote vertraging zal deze trein niet verder rijden naar Essen, maar in Antwerpen Centraal direct terugrijden naar Charleroi"

Bummer - nu moet ik toch overstappen, en dan nog wel op een boemeltreintje want de volgende InterCity … heeft ook 45 minuten vertraging.

Jawadde, het is precies de eerste trein sinds lang richting Essen, want er zit wel 50.000 man op.
Niet erg - een beetje socializen met je mede lotgenoten is niet verkeerd.
Alleen jammer dat de trein maar niet vertrekt.



"Wegens een elektrische storing tussen Berchem en Antwerpen zit de bestuurder van deze trein nog vast op een vorige trein"

Allez dan…
Na een halfuurtje socializen is iedereen precies wat uitgepraat en wordt er vooral veel gezucht.
en veel getelefoneerd.
Zo van "Papa, kunt gij mij komen halen" en zo.

26 graden in oktober is fijn, behalve (alweer) als je met 50.000 mensen in een stilstaande trein staat.

De conductrice is zichtbaar opgelucht als ze aankondigt dat de treinbestuurder gearriveerd is en inderdaad: we vertrekken.
Na 2u15 minuten stap ik af in Ekeren - 1u40 minuten vertraging - toch best wel veel - vooral omdat ik het laatste uur als sardien niet eens in de mogelijkheid was een boekske te lezen of een filmpje te zien.

Nu - niet getreurd: de NMBS heeft daar een oplossing voor.
Bij vertragingen van meer dan 60 minuten kun je namelijk een compensatie aanvragen.
Je moet enkel een formuliertje invullen, dat terugbezorgen aan de NMBS en je krijgt de waarde van je ticket terug.
pas op, niet in centen hé, je krijgt een waardebon die je kunt gebruiken om je volgende ticket te kopen.

Een geweldige oplossing, vooral omdat je voor dat formulier allerlei info moet gaan opzoeken, zoals de treinnummers van de treinen die je normaal had genomen, en de treinnummers van de treinen die je uiteindelijk hebt moeten nemen.
Parate kennis, als het ware.
Want wie wil er nu niet - na een dik uur tijd verlies- nog eens een half uur spenderen aan het invullen van een compensatieformulier, right?

"Dat moet toch beter kunnen" - denk je dan als developer.
Per slot van rekening staat al die info die je nodig hebt ergens online, en heeft haast iedereen tegenwoordig zo'n super smartphone die
online gegevens kan opvragen
weet hoe laat het is
weet waar je bent
foto's kan nemen

PING!
*idee*

De NMBS-Compensat-o-matic app voor op je telefoon
Stel je het volgende scenario voor:

Als je met de trein reist en je merkt dat je vertraging zal hebben, start je de app en je duidt aan naar welk eindstation je moet gaan.
De applicatie begint op dat moment je locatie te loggen en contacteert de geweldige iRail API om na te vragen welke treinen (en treinnummers) je zou moeten nemen en wat je normale aankomsttijd zou zijn.
Constateert de applicatie dat je na een paar minuten nog altijd op je startpunt bent, dan wordt er vanuit gegaan dat je vertraging hebt.
Als je geo-locatie plots wijzigt weet de applicatie dat je op een trein zit en gaat aan de verschillende databanken, zoals railtime.be en iRail vragen welke trein dat zou zijn.
Stel, je positie blijft een paar minuten hangen op een bepaald trein station, dan weet de applicatie dat je waarschijnlijk een overstap aan het maken bent en gaat weer op zoek naar de treininfo.
Als je geo-locatie overeenkomt met je eindstation weet de app dat je bent aangekomen.
Je aankomsttijd wordt gelogd en als de vertraging meer dan 60 minuten bedraagt krijg je een signaal met de vraag of je even een foto wil nemen van je treinticket.
Je krijgt je route met treinnummers en vertragingstijden op je scherm en na je bevestiging wordt alles netjes gepost naar het juist elektronische formulier van de NMBS.

Bedraagt de vertraging minder dan 60 minuten maar meer dan 15 minuten, dan slaat de applicatie dit op voor later: als je namelijk meer dan 20 keer op 6 maanden tijd 15 minuten vertraging hebt wordt dit ook gecompenseerd.

Simpel, automatisch en pijnloos: de klant krijgt waar hij recht op heeft en de NMBS heeft weer extra motivatie om hun treinen op tijd te laten rijden. iedereen content!
Hoera!
Jammer dat ik voorlopig geen tijd heb om de app te maken, maar als er iemand anders goesting in heeft: go ahead!
Het is een applicatie die zijn investering volgens mij snel terugverdient.

Je zou zelfs pro-actief kunnen gaan werken: stel je komt netjes op tijd aan maar op een ander moment van de dag is er wel een vertraging van 60 minuten op je traject .
Voor hetzelfde geld had je daar ook ingezeten, niet?
Dan is het toch niet meer dan redelijk dat de applicatie je daar van op de hoogte brengt zodat je alsnog met je ticketje de compensatie op kunt strijken, nietwaar?
Al was het maar ter compensatie van al die keren dat je net NIET aan die 60 minuten kwam.

Goed idee, nu alleen nog uitvoeren.

De NMBS-Compensat-o-matic - hopelijk ooit op een smartphone in je buurt.

P.S - je kunt natuurlijk al raden wanneer deze lange blogpost is geschreven …. inderdaad!
De vertraging bleef vandaag gelukkig beperkt tot 25 minuten.

De foto hierboven is overgenomen van Nmbs.TV
Tags: in 't Nederlands, Lifelog, Mobile, Web 2.0
Geef je reactie (10)